Rain gutters are the unsung heroes of your home. They are an important part of home improvement and can prevent the outside of your property from incurring thousands of dollars in damage. Without gutters, rainwater can penetrate outside walls and trickle down to your home's foundation, where it causes significant destabilization over time. It is therefore important to clean your gutters regularly. Dirt, debris, and leaves can clog your gutters and prevent water from being properly channeled from the home.
It is recommended that you clean your gutters a few times a year or whenever the seasons change (such as during the fall when there is a lot of shedding of leaves).
Here are 4 simple steps that you can follow to clean your gutters as part of your home improvement.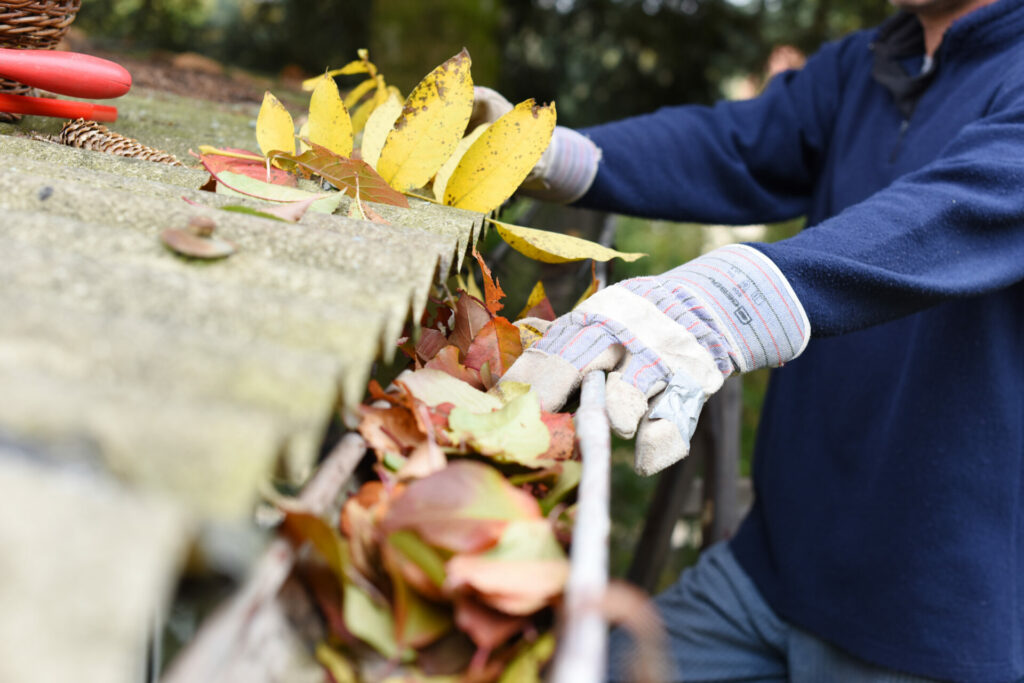 Got equipment?
You first need to make sure that you have all the required equipment handy. You will need gloves, a ladder, a hand rake, a garbage bag and a hose. The gloves will protect your hands from any sharp objects that you're likely to encounter, the ladder will enable you to climb and access the gutters, and the hose will be used to spray down the gutters of all debris that may be blocking them.  If you don't have all the equipment, leave the cleaning work to the pros.
Access the gutters
The next step is to set up the ladder close to the side of the home. Make sure your ladder is on solid ground and is stable before climbing it. To prevent the ladder from damaging the gutters, it is a good idea to use standoff stabilizers (also called ladder horns).
Scrape off debris from the gutters
Using your hand rake, scrape off all dirt, debris, and leaves from the gutters. You can start from one end and work systematically towards the opposite end. Pay attention to the downspouts so that you don't push debris further down their length.
You should also systematically check the gutter spikes to make sure they are held firmly in place. In addition, check that the rivets are properly positioned and inspect the gutters for any leaks.
Clean the downspout
To finish off the process, check if the downspouts are clogged. Remove any debris that is blocking the holes, and use your hose to spray down dirt from both the gutters and the downspout. This will create a clear path for rainwater to drain properly down the gutters.
By following this process, you can be sure that your gutters will remain working for longer.
Get a professional clean without lifting a finger! Call us at Shore Clean Solutions today!