We provide Professional & Dependable Pressure Washing!
100% Satisfaction Always Guaranteed!
Residential Pressure Washing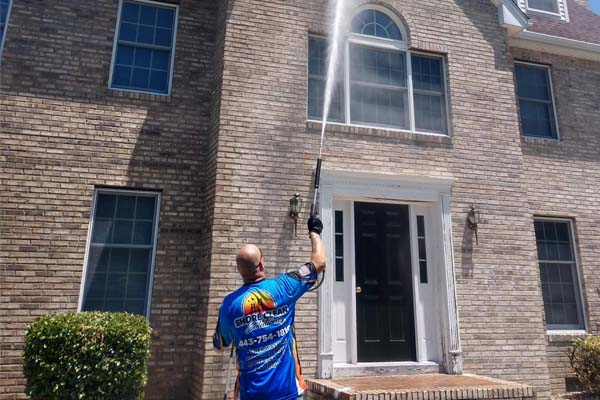 We can safely clean your home from the ground with no ladders with our special blend of detergents that kill the organic growth right down to the spores allowing a clean home and restoring the life of the home. Learn More
Commercial Pressure Washing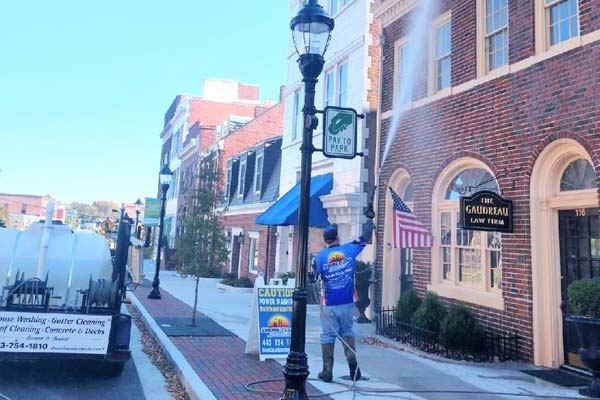 If you are looking for commercial power washing in Maryland or Delaware you are in the right place. Here at Shore Clean Solutions we are a company that believes in Quality workmanship for our customers. Learn More
Are your gutters overflowing?
Join our semi- annual Spring and Fall service and never have to worry about your gutters again. We will come out 2 times a year and clean your gutters and down spouts making sure they are working properly. Once you become a customer we will contact you in November and April to schedule your appointment just in case you forget!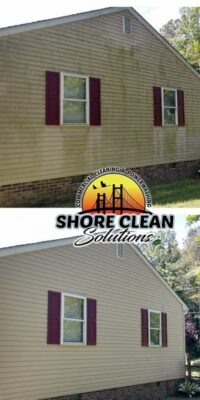 Power Washing can Increase the Value of Your Home
Your home is exposed to many different elements including the Sun, Wind, Rain, Dirt, Moisture and many other pollutant's. These elements can impact your homes appearance in many different ways. The growth of Mildew and Algae can happen rapidly due to the elements your home is exposed to and take away from the life span of your home. Pressure washing removes Mold & Mildew, which are damaging to both your home and the health of your family. Some pollutants can actually stain and damage many parts of your home leaving you with costly repairs. This is why pressure washing your home is important every year to Protect Your Home from the elements and also increase the value of your home. If you intend to sell or rent your home it is a great idea to pressure wash your home before contacting a real estate agent to maximize the potential of your property.
WE WASH YEAR ROUND!!
FREE ESTIMATE
Power Washing Protects Your Home and Family
In addition to the look of a clean home, pressure washing also helps with the safety of your property. Mildew, Algae and other organic growths attack the surfaces leaving Concrete Pads, Pavers, Decks, Porches and Sidewalks a potential Slip Hazard when these surfaces get wet from rain or the morning dew. The last thing anyone wants is a doctor visit from slipping or falling. That's why it is important to pressure wash your property every year. Cleaning your patio or pool apron doesn't have to be a headache or an expensive project. With our pressure washing training and knowledge we can safely take care of all your projects.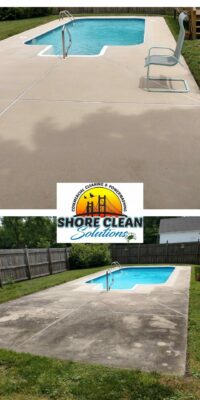 Power Washing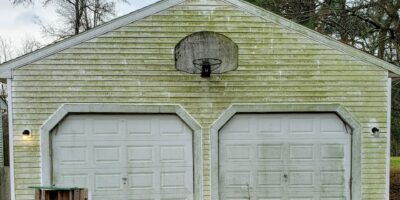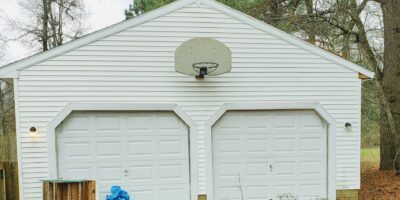 Soft Washing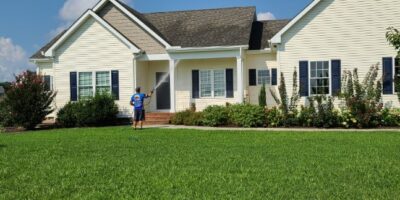 Delmarva's Soft Wash Specialist
No Pressure = No Damage!!
Trained & Certified Professionals
Hot/Cold Water Power Washing
Cleaning Agents SAFE ON ALL SURFACES
Low Pressure Cleaning
Mold & Mildew Removal
No More Green Siding
100% Satisfaction Guaranteed
We are family owned & operated. 10+ years Experience in the Cleaning Industry.
We provide Professional & Dependable Cleaning service . Our 5 Star Reviews speak for themselves and we pride ourselves on giving the best service possible. Our Team works hard to be the best. We proudly serve Hebron, Maryland and surrounding areas for all of your commercial cleaning & pressure washing / power washing needs.  We specialize in INTERIOR & EXTERIOR CLEANING with our  State-of-the-art commercial grade equipment. Your property is undoubtedly your largest  investment. Put it in the hands of a company that specializes in Cleaning Services. You will be amazed at the results.
Free Onsite Estimate
Certified & Trained
Licensed & Insured
We accept:  Visa, Master Card, American Express, PayPal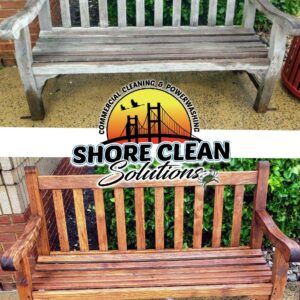 Service Area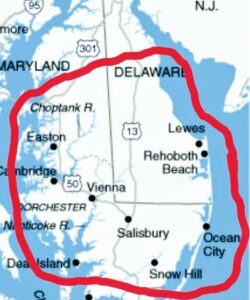 Maryland & Delaware
Allen, Berlin, Bethany Beach, Bethel, Bethlehem, Bishopville, Bivalve, Bridgeville, Cambridge, Chincoteague, Crisfield,  Dagsboro, Dames Quarter, Deal Island, Delmar, Dewey Beach, Dover, East New  Market, Easton, Eden, Ellendale, Federalsburg, Fenwick Island,  Frankford, Fruitland, Georgetown, Girdletree, Harbeson,  Hebron, Horntown, Hurlock, Laurel, Lewes, Linkwood, Manokin, Mardela  Springs, Marion, Marion Station, Milford, Millsboro, Milton, Nanticoke, Nassau,  New Church, Newark, Oak Hall, Ocean City, Ocean View, Parsonsburg,  Pittsville, Pocomoke City, Powellville, Preston, Princess Anne,  Quantico, Rehobeth Beach, Rhodesdale, Salisbury, Seaford, Secretary, Selbyville, Sharptown, Showell, Snow Hill, Stockton,  Toddville, Trappe, Tyaskin, Tylerton, Upper Fairmount, Vienna,  Wattsville, Wenona, Westover, Whaleyville, Willards