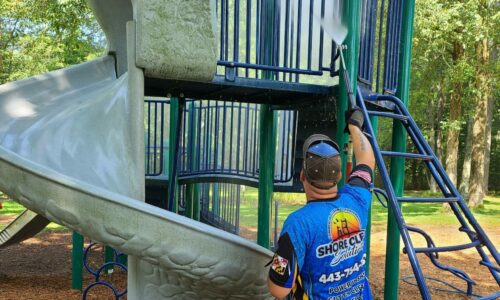 Community playgrounds see a lot of action. In addition to the traffic of many little hands and feet, these outdoor structures are constantly exposed to all natural outdoor elements and, given their designed purpose, numerous man-made elements. Shore Clean Solutions' professional soft wash service effectively cleans and disinfects community playground structures leaving them safe and clean and ready for play.
Broad and Effective Playground Cleaning
In addition to outdoor elements and common grime, playgrounds can host a variety of different bacteria and germs. Soft wash power washing effectively removes:
dust and mud
pollen
mold and mildew
food, beverages and gum
oil
chalk and most paint
bacteria, viruses and other germs
As the COVID-19 pandemic continues to spread, Shore Clean Solutions stands ready to assist by sanitizing and cleaning community playgrounds to help minimize the risk of public exposure to children and families. We use disinfectants that have been proven to effectively kill the COVID-19 virus and are safe to use on all playground equipment.
What & How We Clean Playgrounds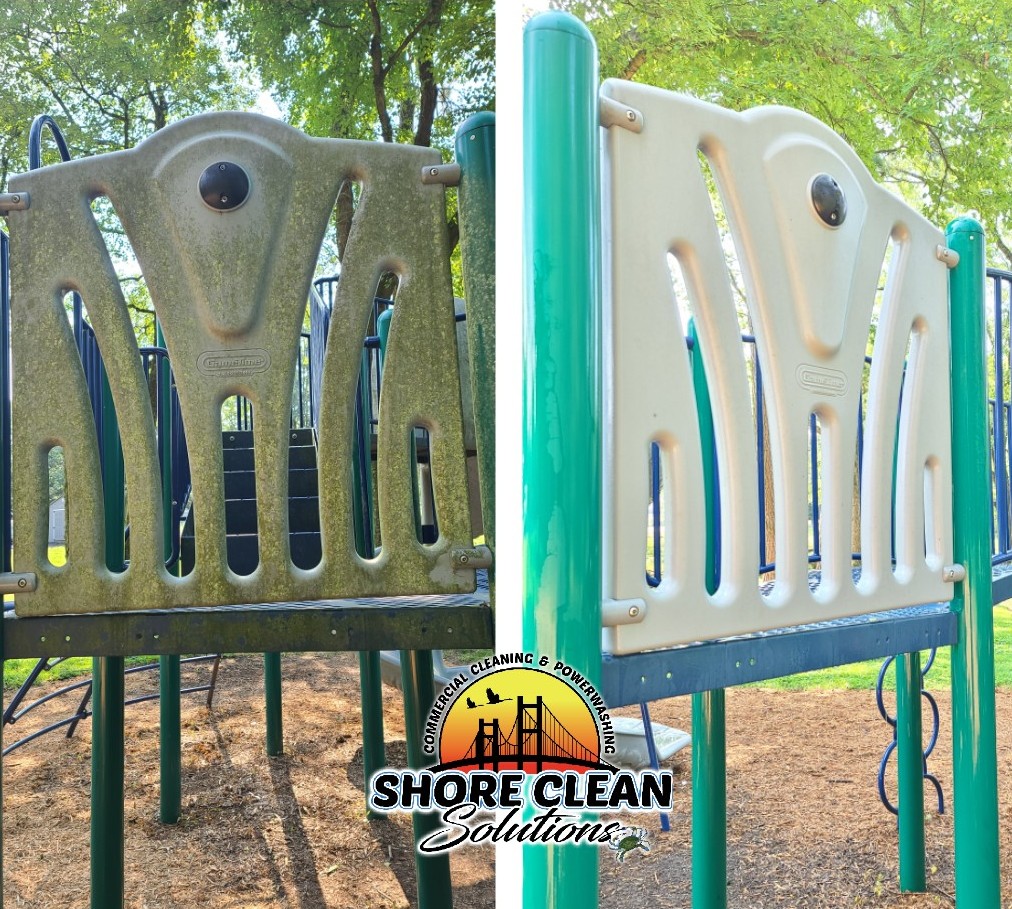 Today's playgrounds come in a variety of shapes, sizes and compositions. At Shore Clean Solutions we analyze structures before deciding on the cleaning approach, which will always capitalize on commercial-grade equipment. When traditional power washing presents a risk to the surface, we use a soft washing technique. Professional soft washing is just as effective as traditional power washing. Using specialized nozzles, we broaden the stream of water to lessen the force of impact. We combine targeted cleaning solutions to the water stream to ensure comprehensive cleaning.
You can count on Shore Clean Solutions to safely and effectively clean and sanitize:
wood playsets
metal playsets
plastic playsets
play systems
rope courses
park structures
benches
picnic tables and chairs
bike racks
You Can Trust Us for All Your Exterior Cleaning
Shore Clean Solutions is Salisbury, Maryland's top rated # 1 professional power washer. In addition to community playgrounds, you can count on us to get your home or business exterior sparkling clean. We're licensed and insured and have earned an impressive collection of 5-star reviews we're proud to share with our potential new clients. Give your families the comfort and peace of mind they deserve with a properly clean playground. Contact us today for a free estimate.