It's summer, so you're likely spending a good amount of time on the upkeep of your yard and home. It's the season of mowing, weed-eating, edging, irrigating, and washing your home's exterior, including the windows. That's a long and exhausting list, so lean on us!  Our team of dedicated and friendly professionals will safely clean your windows right from the ground, no ladders required. Using our special blend of gentle, yet powerful, detergents we will leave your windows sparkly clean. Take a peek at a couple of our hard-working team members in action; they're removing the window grime and restoring a beautiful shine!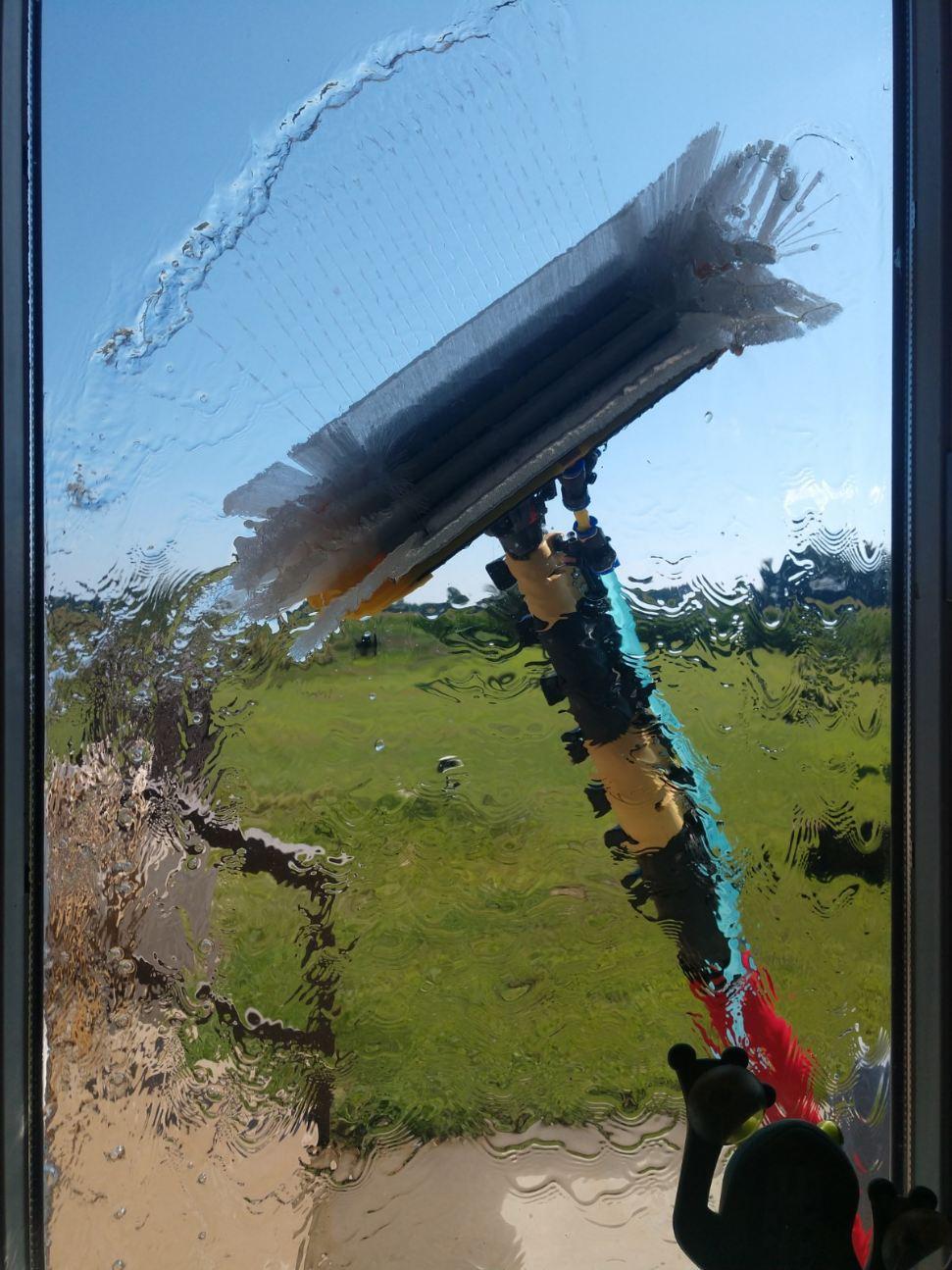 Five Benefits of Having Your Windows Professionally Cleaned
Extend the Life of Your Windows. As the seasons come and go, your windows can be damaged by hard water, acid rain, dirt, and debris. Professional window cleaning removes these corrosive contaminants and reduces the likelihood of future scratches, chips, and cracks, extending the lifespan of your windows.
Professional Grade High-Quality Products.  The use of high-quality equipment and professional grade cleaning products makes a significant difference, resulting in brilliant, streak-free windows. Professional grade cleaning products have the power to remove stains, dirt, and organic growth, like mold and fungi, while remaining gentle and safe for your home.  An important benefit of having professionals clean your windows is that they are trained and utilize certified cleaning techniques. This helps to ensure your windows are treated with the best products and procedures.
Enhance Your Window Efficiency. Oxidation and weathering around window frames can damage window seals causing air leaks, fogging, and condensation. By having your windows professionally cleaned, you can enjoy not only the final product, beautifully polished and pristine windows, but also the benefits of enhanced efficiency.
Transform Your Windows from Dull to Vibrant. Regardless of how clean your home is on the inside, dirty windows can make a home look unkempt and poorly maintained. Removing build-up from your windows is a quick way to make your home look fresh and inviting. Clean windows create an aesthetically pleasing appearance while adding to your home's overall curb appeal and value. Those meticulously cleaned and spotless windows create a great first impression and demonstrate your commitment to keeping your home looking its best.
Safer Option and Time Saver. When you leave your dirty window worries to professionals, you don't have to mess with the hassle of doing it yourself. There's no risk of climbing ladders, struggling to reach high windows, or working with harsh chemicals (that aren't the safest for you or your home). In addition, we know you are busy; washing your windows is a time-consuming process. Let us take care of that burden for you!
As a family-owned and operated business with over ten years in the cleaning industry, you can trust our team and the service we provide. Smudges, fingerprints, streaks, dirt, and debris don't stand a chance against our grime-busting team! Contact us today for a free estimate. We offer both residential and commercial window cleaning.